JOIN OUR BOARD OF DIRECTORS!
· Nov 19, 2021
The Cote-des-Neiges Black Community Association (CDNBCA) is seeking engaged, dedicated, experienced, and excited volunteers to join our Board of Directors.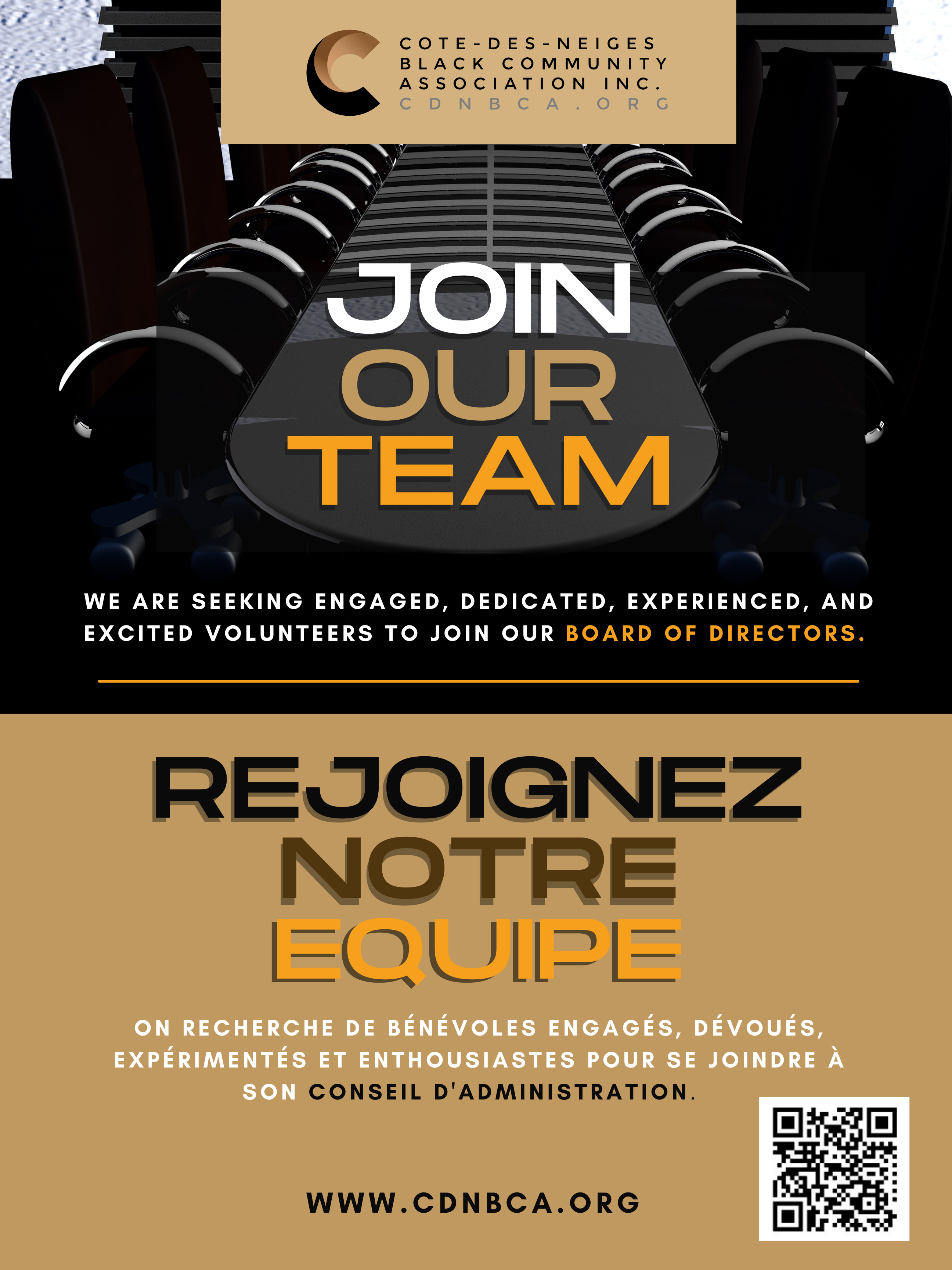 JOIN OUR BOARD OF DIRECTORS!
The Association de la communauté noire de Côte-des-Neiges (ACNCDN) is looking for committed, dedicated, experienced and enthusiastic volunteers to join its Board of Directors. We are recruiting 2-4 acting positions, for re-election at our spring AGM.
About the ACNCDN:
Our mission is to support the development of the social, cultural, educational and economic institutions of our community. We will strive to develop partnerships and collaborate with institutions to provide effective services and programs that will meet the needs of our community. The ACNCDN is guided by strong principles that enshrine the rights of all individuals in this society to live in equality and dignity.
You are an ideal candidate if:
You are passionate and have experience in working or volunteering in an NPO, in a spirit of collaboration.

You are interested in developing a thriving Black community in Montreal.

You believe in and support the mission and vision of the ACNCDN.

You have 8 to 12 hours per month to dedicate and support the ACNCDN Board of Directors.

You are an honest member of your community with a strategic mind and proven leadership skills. You can contribute to the overall oversight responsibility of the Board of Directors to ensure that the mission and values are up to.

You have expertise in areas such as human resources, law, marketing, finance, fundraising, communications, program development, governance or strategic planning.
What you will do:
The Board is responsible for ensuring that the organization's mission is implemented and that the values of the ACNCDN are respected in all its decisions. The board also oversees the legal and financial management of the organization.
You will participate in monthly Board meetings and oversee the operations of the ACNCDN through the following four main departments:
Business (fundraising and membership)

Finance (general budget, financial statements)

Human resources (hiring, employee development, payroll)

Programs (development and support of ACNCDN projects and services)
Ready to apply?
Fill out

this web form

by December 30th

Selected applicants will be contacted to provide more information or answer additional questions if necessary.

After filling out the form, we will contact you for a short interview with the current Board of Directors.

Successful candidates will be invited to join the Board of Directors as interim members until the Annual General Meeting (AGM) or a Special Meeting is held, where they will be elected (Board members must be members of the CDNBCA prior to the AGM).
#SUPPORTURBCA
Join us and help.
We are so grateful when people offer to help us achieve our mission. Volunteering, sharing our web stories, or making a donation makes a huge difference! Thank you for your support.
Donate here